Immuplex®, 90 Capsules
Regular price
$38.50
$38.50
Backed by Standard Process
Farm fresh ingredients organically grown in the United States
The preferred choice of healthcare practitioners and their patients.
You can purchase a maximum 5 units of this product
Free shipping on orders over $100
Immuplex® is a daily supplement supporting a healthy immune system response through a blend of essential micronutrients & minerals, & contains specialized extracts.*
Supports the immune system*
Supports a healthy immune system response function*
Helps maintain normal white blood cell activity already within a normal range*
Contains Protomorphogen™ & Cytosol™ extracts
Supports the body's normal inflammatory response function*
Provides ingredients with antioxidant activity
Excellent source of zinc, iron, copper, chromium, folate and vitamins A, B6, and B12 and antioxidant vitamins C and E
Good source of selenium
The Benefits of Immune System Support
Maintaining a healthy immune system helps the body defend itself when faced with challenges. Inflammation is a key part of the immune response by reacting to stimuli and responding accordingly. Increased cytokine production is part of a normal inflammatory response. However, consistently elevated cytokines in the absence of a trigger can lead to an overactivated immune response.*
In cell culture studies, Immuplex® was shown to affect cytokine production, including IL-8, IL-10, TNFα, and IFNy, indicating its role in mediating T-lymphocyte inflammation.1


How Immuplex® Works to Support Your Immune System
Immuplex® contains several micronutrients that function to support the body's normal inflammatory response.* They also work synergistically in the immune response, and many are critical for antibody production.
These micronutrients include zinc, selenium, vitamin C and vitamin E. They exhibit antioxidant properties which may help support oxidant-mediated inflammation2-3 and are essential players in a healthy immune system response.4-6 
Vitamins B6, E, A, and C — also found in Immuplex® — may support healthy white blood cell function.  White blood cells are vital components of the immune system.7,8 
This information is organized in the table below.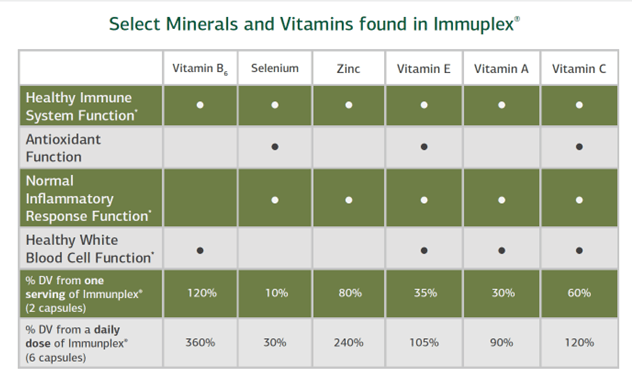 Frequently Asked Questions
Immuplex® provides daily support for a healthy immune system response with a blend of essential micronutrients and minerals, and with specialized protein extracts.* 
Congaplex® is used for targeted immune system support and provides a variety of whole food-based ingredients.* 
Epimune Complex is a vegan supplement designed to provide daily support and help the immune system stand up to challenges.*
Selenium, an essential nutrient, provides an antioxidant function as an essential part of antioxidant enzymes in the body.9,10 Moreover, selenium plays a critical role in various physiological processes including the regulation of immune cell functions11 and healthy inflammatory processes.12 Selenium has been shown to play an important role in many selenoproteins that appear to support the body's ability to resist physiological stress.13
Zinc is an essential micronutrient for basic cell activities and has a key role in aspects of healthy immune function14 and healthy inflammatory response in the body15. In particular, zinc plays a role in both innate and adaptive immune responses, which has been extensively reviewed and studied.16-20
Antioxidant vitamin E — known to be one of the most effective nutrients in the modulation of the immune system21 — supports T cells, monocytes, and cytokine production in the body.22,23
Citations:
Hanlon, P.R., Robbins, M.G., Scholl, C., Barnes, D.M. (2009). BMC Complem Altern M, 9:51.
Arulselvan, P., et al. Oxid Med Cell Longev 2016, 5276130 (2016).
Conner, E.M. & Grisham, M.B. Nutrition 12, 274-277 (1996).
Lenhart, J.G., Vu, P.T., Quackenbush, K., LaPorte, A. & Smith, J. PLoS One 15, e0237491 (2020).
Kielczykowska, M., Kocot, J., Pazdzior, M. & Musik, I. Adv Clin Exp Med 27, 245-255 (2018).
Bendich, A. J Dairy Sci 76, 2789-2794 (1993).
Carr, A.C. & Maggini, S. Nutrients 9(2017).
van Gorkom, G.N.Y., et al. Antioxidants (Basel) 7(2018).
Kielczykowska, M., Kocot, J., Pazdzior, M. & Musik, I. Adv Clin Exp Med 27, 245-255 (2018).
Guillin, O.M., Vindry, C., Ohlmann, T. & Chavatte, L. Nutrients 11(2019).
Avery, J.C. & Hoffmann, P.R Nutrients 10(2018).
Huang, Z., Rose, A.H. & Hoffmann, P.R. Antioxid Redox Signal 16, 705-743 (2012).
Thomson, C.D. Eur J Clin Nutr 58, 391-402 (2004).
Hojyo, S. & Fukada, T. J Immunol Res 2016, 6762343 (2016).
Bonaventura, P., Benedetti, G., Albarede, F. & Miossec, P. Autoimmun Rev 14, 277-285 (2015).
Shankar, A.H. & Prasad, A.S. The American journal of clinical nutrition 68, 447s-463s (1998).
Rink, L. & Gabriel, P. Proc Nutr Soc 59, 541-552 (2000).
Gao, H., Dai, W., Zhao, L., Min, J. & Wang, F. Journal of immunology research 2018, 6872621 (2018).
Maywald, M., Wessels, I. & Rink, L.. International journal of molecular sciences 18(2017).
Wessels, I., Maywald, M. & Rink, L. Nutrients 9(2017).
Lewis, E.D., Meydani, S.N. & Wu, D. IUBMB Life 71, 487-494 (2019).
Lee, G.Y. & Han, S.N. Nutrients 10(2018).
Wintergerst, E.S., Maggini, S. & Hornig, D.H. Ann Nutr Metab 51, 301-323 (2007).
---
Suggested Use:
Two capsules per meal, or as directed.
Warning: Accidental overdose of iron-containing products is a leading cause of fatal poisoning in children under 6. Keep this product out of reach of children. In case of accidental overdose, call a doctor or poison control center immediately.
---
Nutrients & Ingredients
Each Serving Size (2 Capsules) contains: Cholesterol <5 mg, Vitamin A 300 mcg RAE, Vitamin C 54 mg, Vitamin E 4.9 mg, Vitamin B6 2 mg, Folate (200 mcg folic acid) 335 mcg DFE, Vitamin B12 2 mcg, Iron 5 mg, Zinc 9 mg, Selenium 6 mcg, Copper 0.2 mg, Chromium 30 mcg, Sodium 30 mg. Proprietary Blend 545 mg: Bovine liver PMG™ extract, veal bone PMG™ extract, nutritional yeast, bovine spleen PMG™ extract, bovine thymus PMG™ extract, bovine thymus Cytosol™ extract, bovine liver, bovine spleen, and ovine spleen. Other Ingredients: Gelatin, zinc amino acid (rice) chelate, ascorbic acid, iron amino acid (rice) chelate, chromium yeast, water, d-alpha tocopherol (vitamin E sunflower, modified tapioca starch, selenium yeast, copper amino acid (rice) chelate, pyridoxine hydrochloride, dicalcium phosphate, sucrose, calcium stearate, modified corn starch, vitamin A palmitate, folic acid, and cyanocobalamin.
---
Please consult the actual product label for the most accurate product information.
*These statements have not been evaluated by the Food and Drug Administration. These products are not intended to diagnose, treat, cure, or prevent any disease.